Checklists prompt technicians to provide additional information during their on-site visit. Questions that a subscriber can include in a checklist are highly customizable and can address various work order-related topics, such as whether a technician is wearing protective gear or whether any malfunctioning equipment was spotted at a location.
Subscribers create checklists and configure questions in Service Automation. Checklists are built for unique combinations of trade and category. Navigate to ServiceChannel University to find out how to set up checklists.
Note: If the corresponding feature is turned on for a subscriber, they can enable checklists for specific locations. In this case, checklists are configured for unique combinations of trade, category, and location.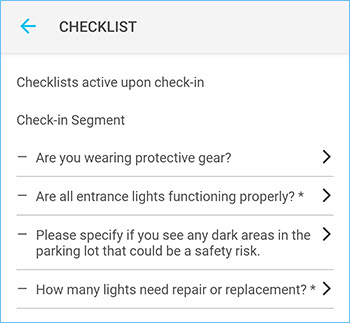 Providers and internal technicians answer checklist questions upon working on service requests. If a technician checks into a work order several times to complete the job, they need to answer questions on each visit. Submitted responses appear on the work order details page in Service Automation, Provider Automation, and in the ServiceChannel Mobile app. Learn more about viewing checklist answers in ServiceChannel University.
Both subscribers and providers can work with checklists via the API and do the following: